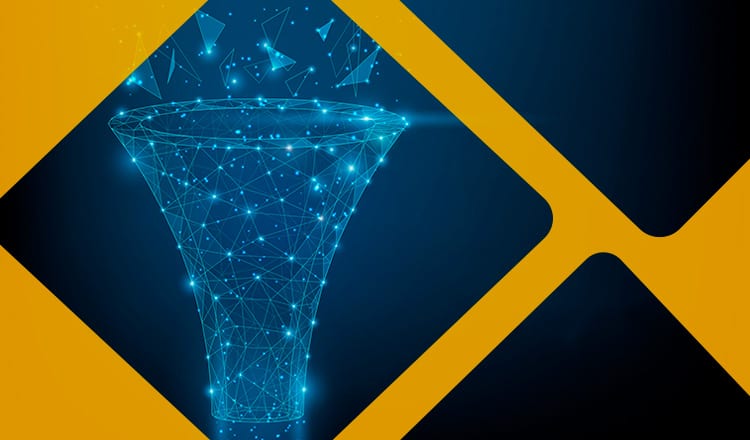 Marketing and sales are chasing conversions and lead but often forget about the most important thing – their customers and effective communication. Business funnel building is all about it. Based on the best funnel-building experience, let's check out how to build a sales funnel in such a way that to collect as many targeted leads as possible and bring the maximum number of users to a deal via effective communication.
What is a Sales Funnel?
What is a funnel in business? The sales funnel is a buyer journey, the movement of a customer from getting to know a company to make a product or service purchase.
Why is a sales funnel important?
Understanding the concept of a funnel system and sales funnels is essential. This is a useful model for visualizing the data, namely the customer journey from initial awareness all the way through the conversion. The sales cycle concept provides a useful framework to analyze your business and identify areas for improvement deeply. That is being a data-driven company with high potential.
If a user could wait several hours or days for a company to contact them earlier, companies must now adapt to their customers and respond quickly to requests. User- cantered communication is a key process for the funnel structure, and it must be organized in such a way that the user receives a solution to the problem quickly.
The Sales Funnel Explained: How it Works
If it's ok with the definition, then it will be easier to understand why you need a funnel and how it actually works. When your prospects get into the sales funnel you build for a particular business goal, in the process, they pass through several stages before they become customers. They are organized in such a way that each stage of the funnel takes the prospect one step closer to making a purchase and is aimed at simplifying that process. Thus, a well-planned sales funnel will define the actions your business needs to take to push prospects to the next stage throughout the funnel plan.
An Effective Sales Funnel Example
Understanding the way the sales funnel works and the stages it offers to the target comes with the best sales funnel examples. Here they are: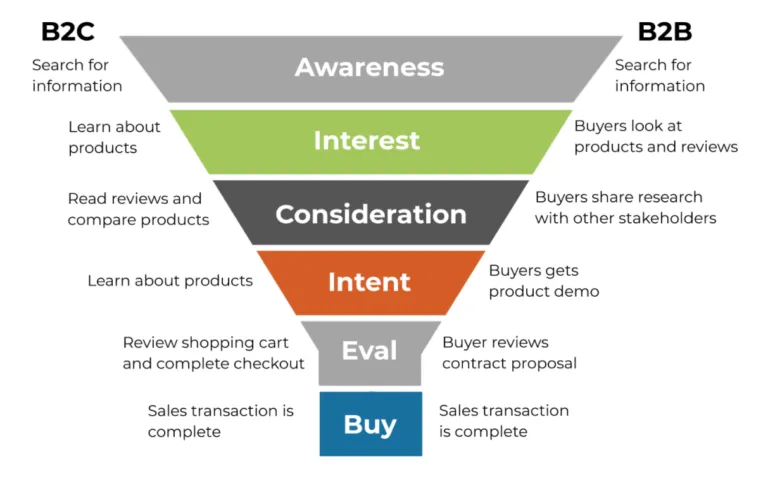 Stages of a Sales Funnel
The stages of the sales funnel are well described by the AIDA business funnel model: awareness, interest, desire, and action. The AIDA framework is the most universal one to divide user interaction into stages depending on the readiness to purchase and helps to get more customers. The AIDA model looks like a funnel because the number of people decreases at each stage.
The AIDA funnel model is suitable for any type of business, but the stages of the funnel depend on its specifics. The funnel consists of four stages:
Awareness
At the first stage of going through the sales funnel, the user will know that your company exists. The user here sees an ad on a social network or a link in the search engine results, etc., and goes to the website.
Interest
The user gets interested in the offer: looks at the catalog studies the terms of delivery, payment methods, and other details.
Desire
The user may add an item to the cart and wants to buy it. Or leaves the contact details in a filled-in form on the website.
Action
The user finally reacts to your CTA and performs a target action: places an order, subscribes to the newsletter, leaves the contact number, etc. The AIDA model looks like a funnel because the number of people decreases at each stage.
What does a funnel look like in B2B?
How to Build a Sales Funnel
How to build a funnel that converts? There are a couple of certain steps, to begin with. So, you may build funnels from scratch according to this scenario:
Create a landing page.
Offer something valuable.
Nurture the prospect.
Close the deal.
Follow up on the process.
Measure and analyze the outcome.
Optimize your sales funnel.
Ask your sales team to create the perfect level of awareness for your target market and align them with the marketing. Engage with your audience and benefit them by building their trust which will lead to transforming your website content consumers into brand advocates and buyers. And all thanks to providing them with excellent customer service, to keep them coming back repeatedly in no time. That's how your fuel becomes a perpetual sales machine.
Measuring the Success of a Sales Funnel
To measure the success of your conversion funnel is to take into account the performance of your sales funnel. To uncover inefficiencies at various stages of the sales funnel, look for weaknesses that are detrimental to your metrics. Knowing what measure equates to success will clarify the situation. Take a look at these measurement tools depending on your goals to gauge the effectiveness of your sales funnel:
Traffic sources and engagement statistics,
Call to Action effectiveness,
Email click rates,
Social media engagement,
Landing page efficiency,
Email marketing automation performance and so on.
With these general areas, you have an organized starting point to focus on what part of your marketing automation process needs to change. Your analytics will tell you what to do. Remember that these are direct results of your customers' behavior, so let them guide you in the right direction throughout the funnel analysis.
Why You Need to Optimize Your Sales Funnel
The way you organize a marketing funnel structure also counts. Sales funneling optimization is another way to keep up with your audience and stay data-driven. With a marketing funnel, you have the opportunity to maximize your efforts and even automate your work with a high level of efficiency. Once you have worked out your sales funnel strategy, a consistent percentage of customers will lead to sustainable business growth.
Embed an effective marketing strategy into your ongoing processes. The opportunity to generate more revenue will come when you can expand the top of your funnel. This way, you may increase your sales and grow your customer base. From here, you can use other methods that will strengthen the foundation of your campaign.
How to Optimize Your Sales Funnel
For exceptional funnel design and optimization, it's highly recommended to use professional marketing tools like Creabl and similar.  You simply choose the service you find the ideal from a reliable full marketing automation company that may be able to provide your business with the sales funnel automation you need to build a powerful marketing sales funnel and more. For more information, visit our website, and feel free to sign up for a demo right now.
Principles of Persuasion for Effective Sales Funnel
In marketing or sales, we not only use the particular models or funnel steps; we may also apply six principles of persuasion to help optimize the process best of all. Here are the principles and how we may use them in sales:
1)    Reciprocity
This principle means that you should do something for a person with no conditions or expectation of a favor in return, and they are more likely to do something for you sincerely, simply because the human psyche works like that. So, it means they do something in response to an action in a way that corresponds or is somehow equivalent to that action.
2) Commitment/Consistency
The truth is that gaining commitment is an essential element of the selling process. It consists of closing (or checking in) at every step and making certain conclusions about where your customer is in the sales process for the moment (on which level of the funnel too).
3) Social Proof
Social proof in sales is the act of using other prospects' and customers' behavior as examples to influence your leads.(Nutshell) The only thing that will be left to decide is which ones to use and for what reason.
4) Authority
In sales, establishing authority requires revealing that you're a specialist in a particular field or process, and expertise a particular skill set that can help your prospects in solving their problems. Establishing authority is also necessary to staying in control of the sales process throughout funnel information.
5) Liking
What is the liking principle for sales? According to the liking principle, we are more likely to be persuaded by people we like rather than dislike and those we want to be like. It's common that people tend to like people who are similar to them, who pay them compliments, who cooperate towards mutual goals, etc. This is the liking principle.
6) Scarcity
Scarcity in marketing and sales is a technique that the teams apply to encourage their customers to purchase a product or discount before it even goes away. In other words – a sense of urgency. Often, this means putting timers on promos and sales, limiting the offers and number of items in stock, creating seasonal offers or promotional items to sell for a short time, etc.
Benefits of Creating a Sales Funnel
So, the huge benefit when you create a funnel is that it may cater to satisfying all your sales or marketing needs goals, and suits for applying sales principles and so much more. Funnel thinking in any project you do is a way to success.
Conclusion
When it comes to sales or digital marketing, one of the most important things is having an effective sales funnel. It's a powerful sales tool for multiple goals.  Even if you're new to the world of online marketing, learning how to build a sales funnel should be a top priority on your to-do list. Discover how to create a funnel with us in no time and use it to achieve success in your business.
Conversion Funnel Frequently Asked Questions
What is funnel building made for?
The marketing funnel helps with generating new and nurturing existing leads. The marketing funnel building is good for attracting your prospects' interest to your brand, guiding them from their first touch to the point where they have some interest, and finally learning more about your products or services to purchase them.
How does a funnel work?
It's very easy. Each funnel stage takes the potential buyer one step closer to making a purchase. Well-planned sales funnel will distinguish the actions your business needs to take to you're your prospects to the next stage.
How to master sales funnels for beginners?
Apply Creabl or a similar platform to build funnels from scratch.