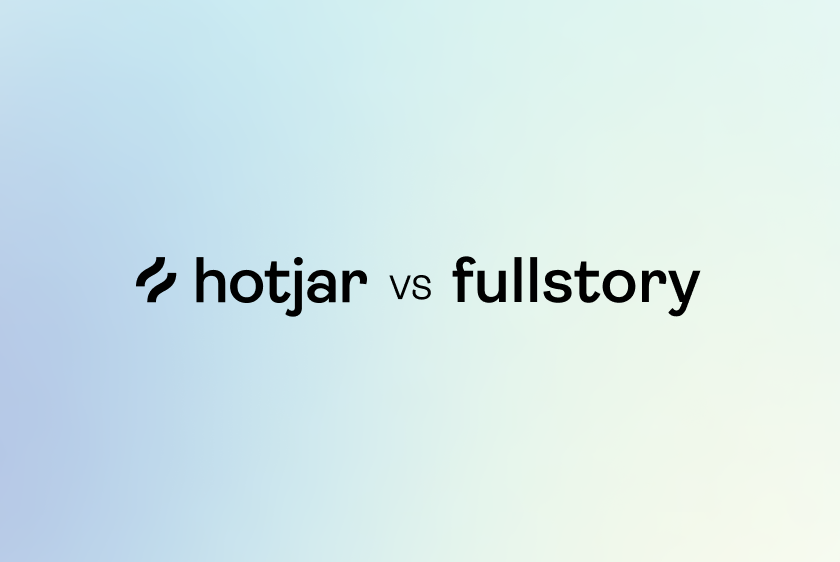 Since web analytics tools that comprise a great alternative to GA and may be helpful for tracking user behavior and improving your website traffic or conversion rate are gaining momentum, here you may compare and contrast full story vs hotjar similar to Hotjar vs CrazyEgg which is another great tools to try as based on their basic features, reviews, pricing, verified integrations & more. Find out here which software will be best for your business today.
What is Hotjar?
Hotjar is one of the top web analytics services for collecting information about the behavior of site visitors. This online website usability analysis service helps you understand your users better, get feedback on your website content and optimize your website to increase conversions.
What is FullStory?
FullStory is a web-based digital intelligence system that helps you quickly improve your work with clients. It allows users to control every action of the client. All movements, from clicks to page transitions, are indexed automatically. Indexed information is available to everyone and can be used to make business decisions. This is not a heat map, although this tool collects information about all clicks on the site.
Hotjar vs FullStory: Basic differences
The session replay in FullStory is more than just a record, it is a representation of the customer's journey. FullStory reports customer contact detection, activity detection, alarm click detection, funnel creation, and message analytics on the dashboard page. There is no heatmap and also no scrolling map. FullStory, on the other hand, lets you analyze user behavior through funnel analysis to identify those areas where users drop off the funnel, while Hotjar is designed to combine user behavioral data with user feedback in order to help you better understand how your website visitors may behave across your business, various web pages and what they think about your website.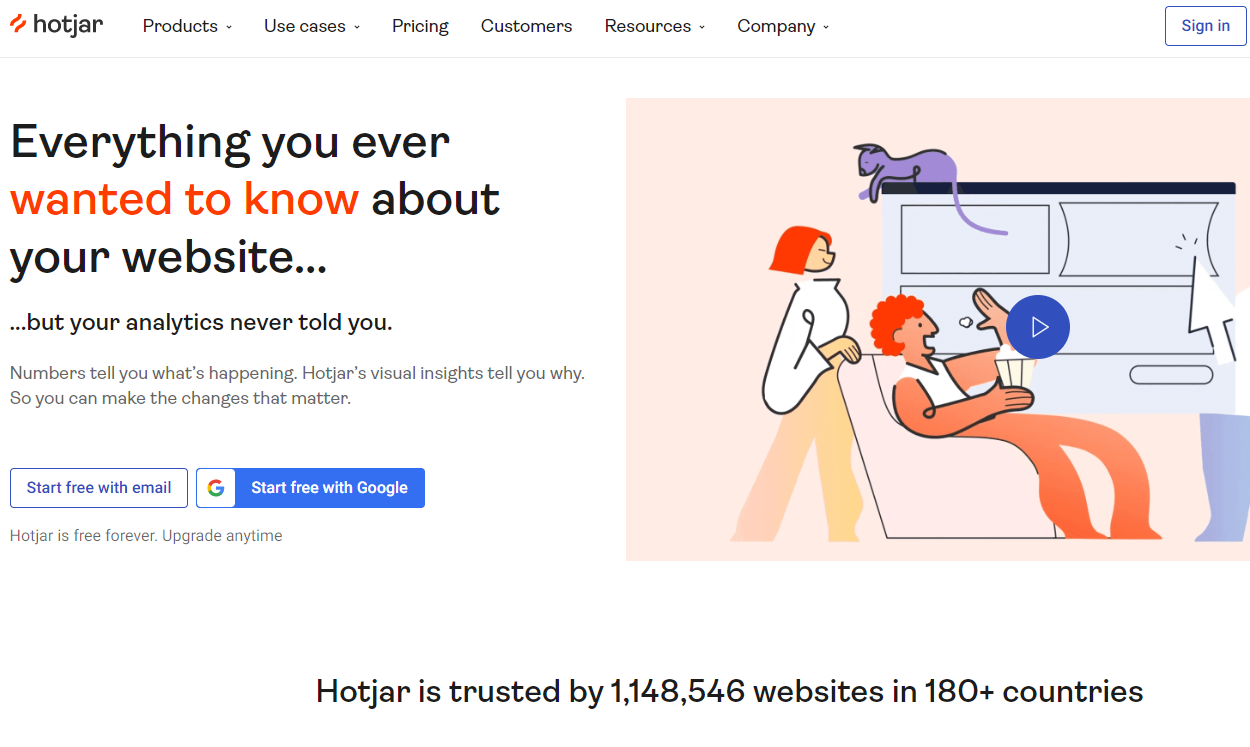 Hotjar vs FullStory: How they compare and contrast
Hotjar vs fullstory have both similarities and differences you need to study before choosing this or that service to work on your website optimization. Based on their basic features, reviews, pricing, use cases, verified features, and integrations & more, you may get a full picture of each software.
Hotjar vs FullStory: User rating
Well, According to the most trusted software reviewer Capterra, Hotjar user rating scores 4.7 out of 5 based on 443 various user reviews, while FullStory gets a score of 4.6 out of 5 based on 63 user reviews.
Hotjar vs FullStory: Use cases
While Hotjar is the industry leader for heatmaps and behavior analytics, FullStory is the service that offers video recording of user behavior on the pages of the site. This is not a heat map, although this tool collects information about all clicks on the site. There is also no scrolling map. So, in this format, you won't actually use it.
Hotjar vs FullStory: Deployment
So, Hotjar is a powerful tool that may help you reveal the online behavior and voice of your users. By means of combining both Analysis and Feedback tools, Hotjar provides you with a bigger picture of how to improve your site's user experience and performance/conversion rates, whereas FullStory automatically identifies problem areas in your funnels like drop-offs and lost users and lost days – so you can prioritize with confidence. Pinpointing dead and hard clicks can also help identify potential user interface characteristics, etc. FullStory also includes click maps which include page details, including the most visited pages. This data is better suited to the intended interactions with current and potential customers. Actions on the video are additionally sorted by type (click, go to a link, enter data, etc.) and, if necessary, each step can be viewed separately.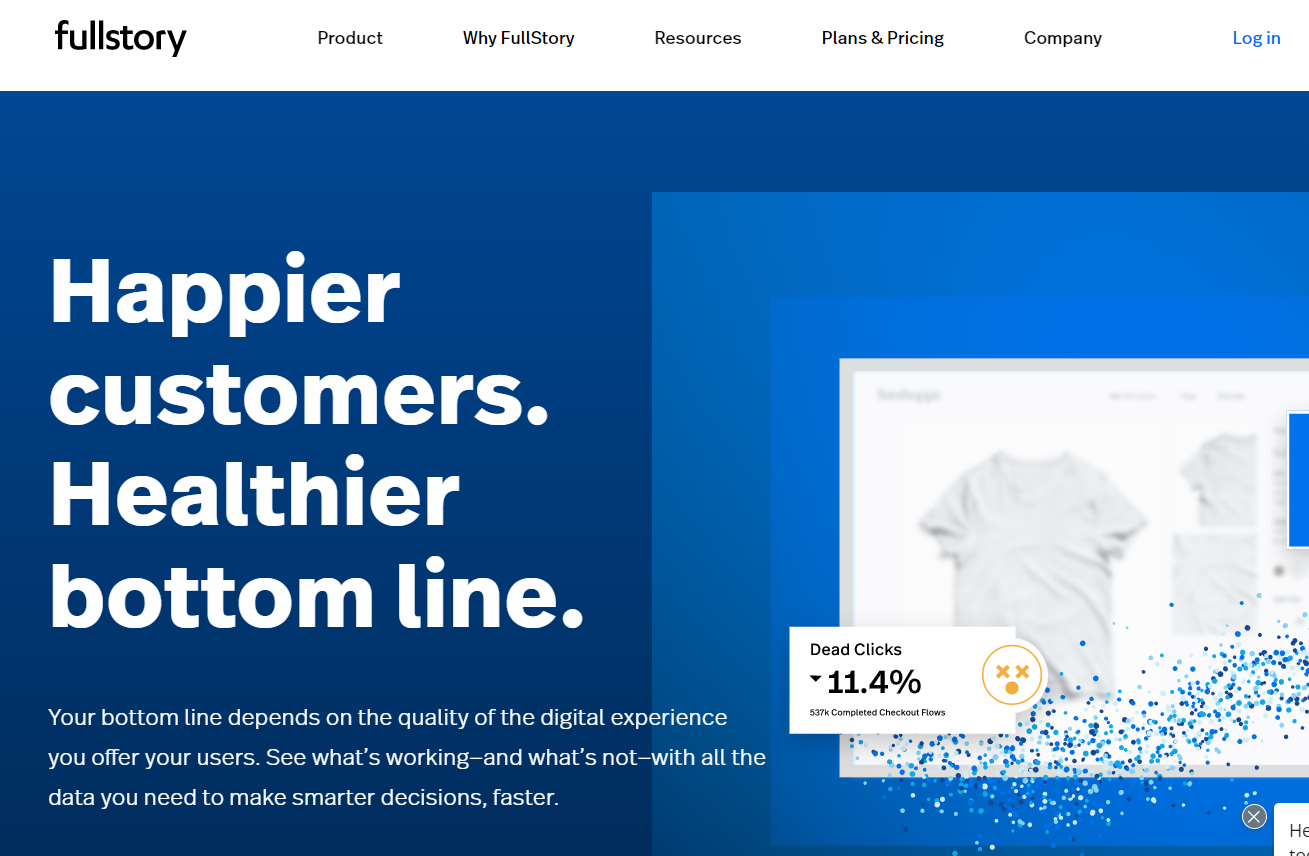 Hotjar vs FullStory: Features
Now let's pass over to the basic features like feedback, heat map or surveys, etc. There are principal differences in features with these optimization services.
Heatmaps
The heat map in Hotjar, like many other services, is thermal and conveys clickable website elements using a color scale. When you hover over the colored symbols, you see the percentage of impressions in the selected area relative to the entire page. The scroll map works as per the same principle the most viewed parts are indicated by the hot color, and the most distant parts are indicated by the cold one. FullStory doesn't provide any heat maps option.
Session recording
Hotjar recordings start collecting the data as soon as the Hotjar Tracking Code is installed. Further, the session capture is enabled. Data is collected across all the pages of your website where that Tracking Code is installed and there's no need to start and stop the Recordings tool manually. The collection of information about user behavior begins immediately after the script is installed. All data is summarized in a personal account. In FullStory all of the page views, mouse movements, or clicks that visitors make on your website are captured via its JavaScript snippet. It must be installed on all of the pages of your website where you need to capture customer engagement.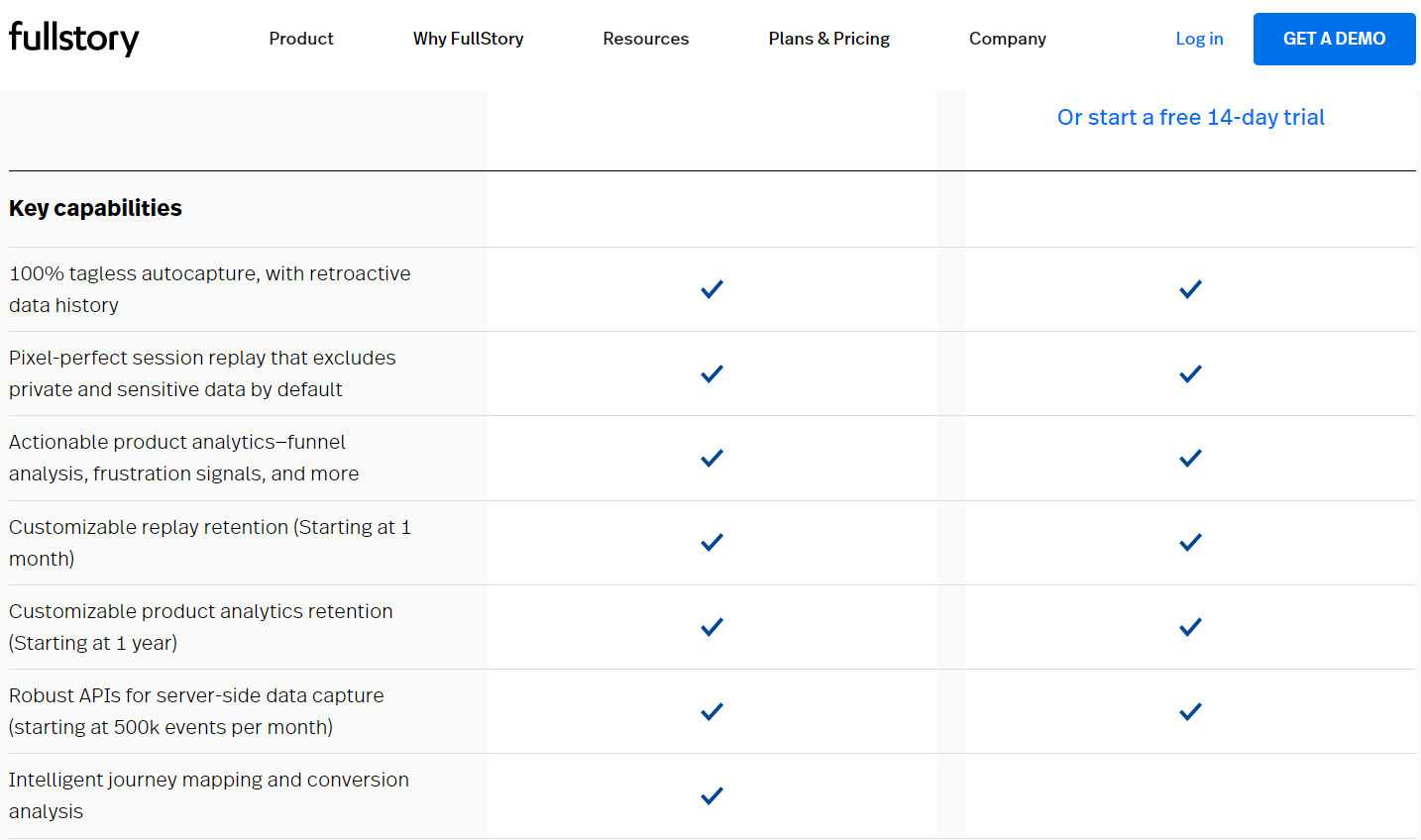 Feedback widget and survey
Yes, you may run fully customizable surveys at any stage of your customer journey with FullStory. Hotjar provides Feedback tools that allow you to get visual and instant feedback from your users. You may ask your visitors directly what elements they love or hate and how to improve user experience.
Hotjar vs FullStory: Languages
Hotjar's interface is only available in English for the time being, however, user-facing features, like Surveys and Feedback, are included with support for multiple languages. You can do it during the setup. Language options are used for tools actions and built-in messages. In FullStory the language supported is English only.
Hotjar vs FullStory: Integrations
Hotjar has seamless integrations with the following services:
Hubspot
Segment
Omniconvert
Optimizely
Therefore, if you are using any of these programs, then you can integrate all the heatmap data from the website into one program. Fullstory has integration with other popular services (Google Analytics, HipChat, Jira, Slack, Trello).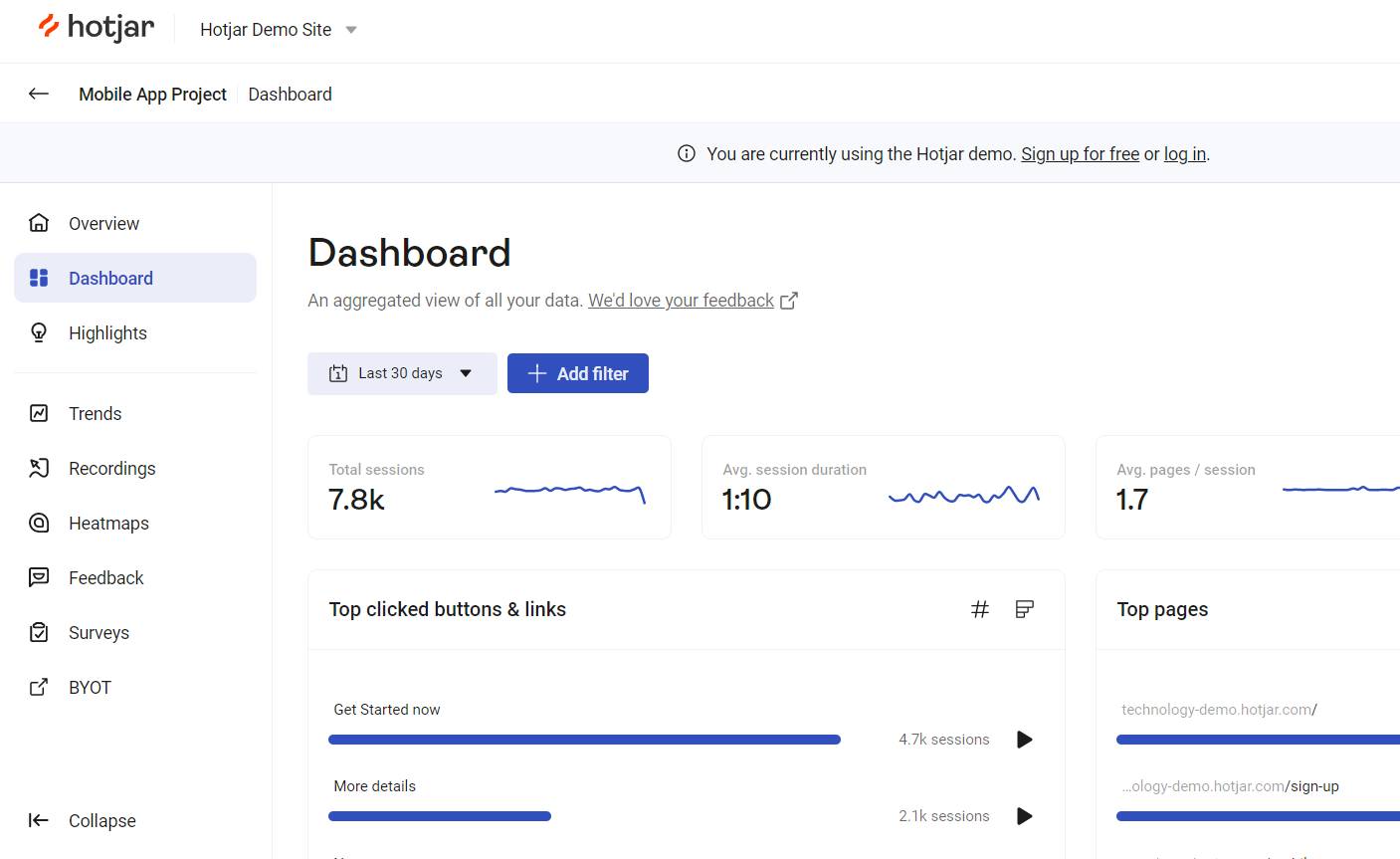 Hotjar vs FullStory: Support
FullStory provides its Help Center. Also, you may use search articles, best practices, and solutions to get up and running with FullStory. Speaking about Hotjar, it offers a range of questions on its website page to contact through the contact button. Both live chat and phone support are offered on their website, with the customer support agents being very agile and helpful to end-user.
Hotjar vs FullStory: Pricing
Both services have free trial versions to try solutions and define further usage packages. Here they differ.
FullStory pricing
Well, how much does FullStory cost? These costs are spotted: $299/month for 25k sessions and 1 month of data history. $247/month for 75k sessions/month and 2 months of data history. $1,000/month (billed annually) for 100,000 sessions. $1920/year on the Startup Programs.
Hotjar pricing
In Hotjar, you may start with a free Basic plan. The cost for individual use may begin from 29 € per 10,000 page views/day. It will allow you to collect data from 35 website sessions per day. If you need to scale the amount of data, you may always opt for a more advanced prepaid plan.
Hotjar vs FullStory: Final words
Hotjar may offer you many interesting charts, a convenient format for submitting statistics on a live site. It's easy to use, cost-effective, and provides several different tools all in one. While one of the great advantages of FullStory is a tool with the functions of defining the most irritated clients (thus, detecting visitors who click too often on the same website area), as well as reporting on dead clicks, etc. Both services may satisfy the demands of a customer in data analysis and other. However, to apply hotjar vs fullstory and their programming tool to insert the code to your business website, you must first carefully define the goals and choose the software ideal for your current marketing goals to use it with maximum efficiency. And keeping in mind the differences between them, of course. If you need an alternative, feel free to apply Creabl in no time.