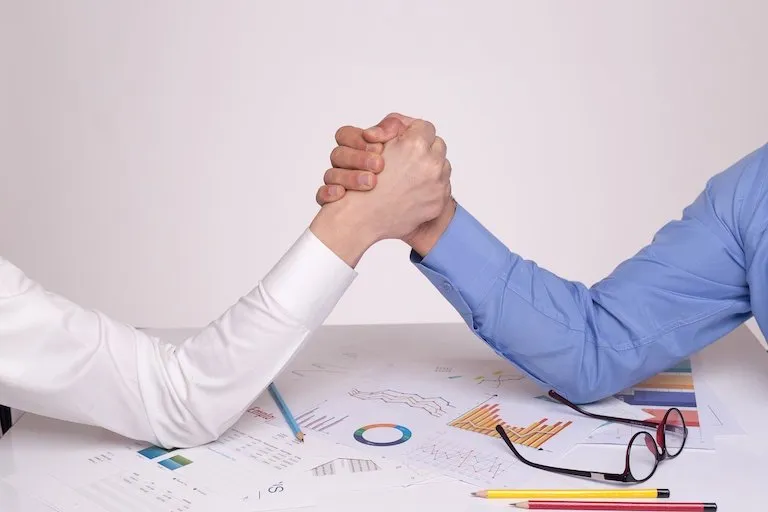 The most sought-after tools with click maps,  heatmaps, and extensive analysis & report features are online services for marketers, UX designers, usability specialists, and or search engine optimization specialists to study and measure user actions on the website, as well as track the overall performance on the website. No wonder, via click maps you may learn more about user visits on the page of your business website or online store. So you may suggest some design updates to improve their consumer behavior and so much more. Hotjar vs Crazyegg is made just for that so pay attention to these solutions.
Main Differences
If we need to start with the key difference, then in terms of Hotjar it will be the fact that it provides users with surveys (email and onsite) whereas Crazy Egg has not had this function. Crazy Egg doesn't offer any feedback widgets whereas with Hotjar features you can have it. Hotjar also may offer then users access to the API, while Crazy Egg cannot. In addition to clicks, Hotjar may offer the users tracking mouse movements, too. Crazy Egg, however rather tracks clicks only. There is no video recording tool in the CrazyEgg heatmap.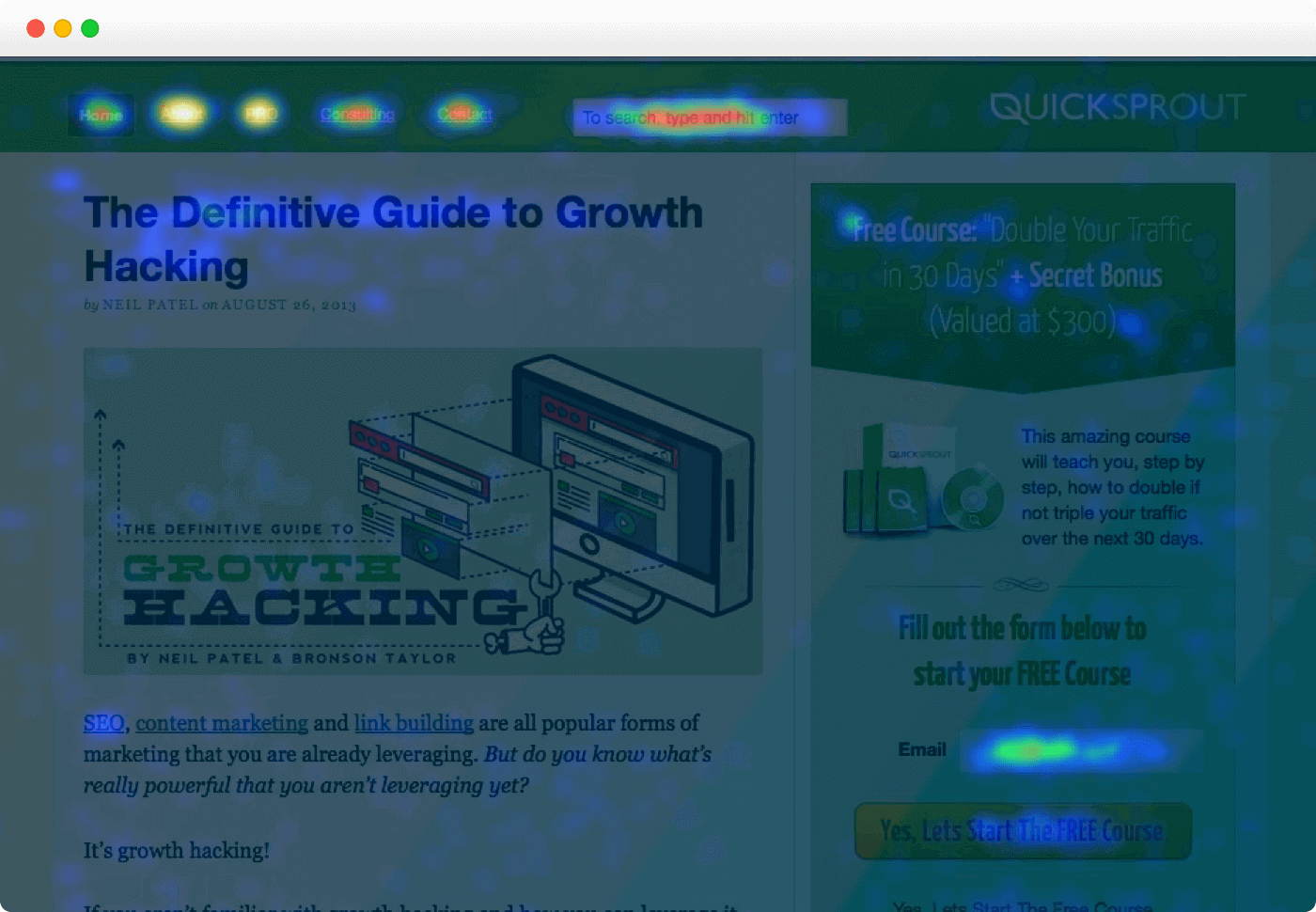 Ease of Use and Signing On
Crazy egg vs Hotjar signing issue also may differ. Some users admit that registering on the CrazyEgg website to enter credit card information is obligatory. So mind that. With Hotjar it's easier. By purchasing access to the Hotjar service, you have the opportunity to work with several tools at once: click and scroll maps, videos of user behavior on the site, sales funnel analytics, etc., and all with not much trouble while registering or signing in.
Platform Support
There is no online service support in the CrazyEgg heatmap (by the way, users often complain about this many times in the reviews you can find on the web). The only way to contact the service team is by email which is not really speedy. Speaking about Hotjar, it remains committed to providing a service that may allow companies of all shapes and sizes to have better web experiences. It offers a range of questions on its website page to contact through the contact button. Both live chat and phone support are offered on their website, with the customer support agents being very agile and helpful to end-user.
Platform Integrations
Hotjar has seamless integrations with the following services:
Hubspot
Segment
Omniconvert
Optimizely
Therefore, if you are using any of these programs, then you can integrate all the Feedback or heatmap data from the website into one program.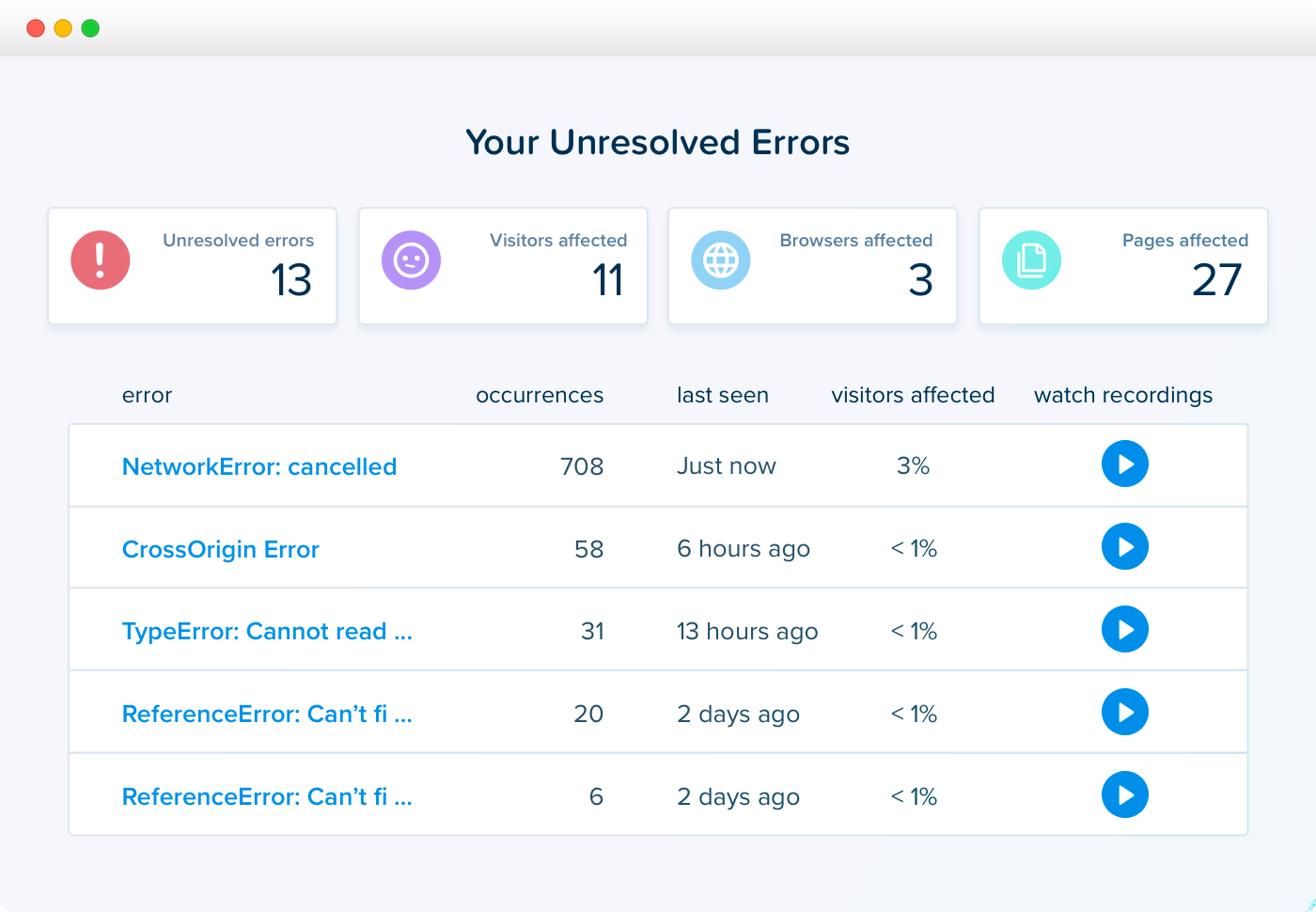 Speaking about Hotjar vs Crazy egg in terms of integrations, Crazy Egg may offer you to integrate with the following business systems and other applications:
Optimizely
User Testing
Boast
AdStage
Dream host
Therefore, if you use any of these programs, then you can integrate all the heatmap data you get from the website into one program of your preference in a page view. See, both platforms offer quite a good choice of options to integrate with for maximum user comfort.
Supported Devices
Well, Hotjar does not support mobile apps. In addition, Dropbox and Google Drive do not make any final cut into either CrazyEgg or Hotjar. Since they both only work on websites and web-based apps, Crazy Egg doesn't have any mobile version either. However, you may always see what mobile device visitors are doing on your website at any time, which is slightly ironic.
Hotjar vs Crazy Egg: Comparing Features
Here's the set of essential features to compare between Hotjar vs Crazy Egg which are pretty similar but still have some differences to consider, and choose the one that is best for you.
Hotjar Platform Features Set
Hotjar is a powerful tool with a set of useful features that help to reveal the online behavior and voice of your business users. They enable you to combine both Analysis and Feedback tools and take a bigger picture of how to improve your website's user experience and performance/conversion rates.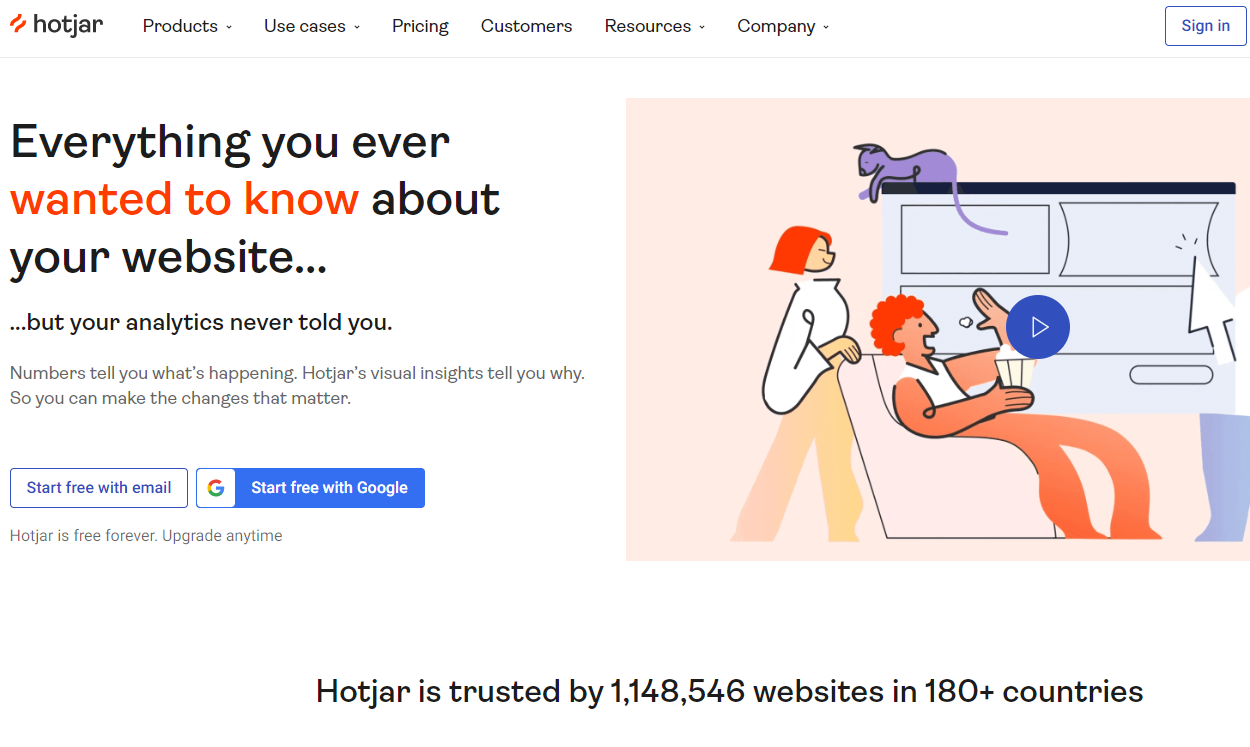 Heatmaps
The heat map, like many other services, is thermal and conveys clickable website elements using a color scale. When you hover over the colored symbols, you see the percentage of impressions in the selected area relative to the entire page. The scroll map works on the same principle: the most viewed parts are indicated by the hot color, and the most distant parts are indicated by the cold one.
Session Recording
Alas, HotJar's heat map doesn't count clicks on dynamic objects (although today many sites use interactive elements to attract the attention of visitors).Also in Hotjar, you will not find the function of filtering clicks on traffic channels. There is also no way to set up custom tags to track specific routes of visitors to a web resource.
Conversion Funnels (CRO Tools for boosting Conversion Rate)
The special features of this product include a tool for working with the analysis of the sales funnel. Thanks to it, you can point-and-click and analyze user actions from entering the site to the moment of payment.
Heatmap scrolling by Hotjar:
Polls and Surveys
Hotjar Survey is a feature the service offers as an on-site survey which is a small, slide-in poll allowing the website owners or managers to ask various survey questions and collect feedback from the people visiting specific pages.
Recruiting User Testers
Does Hotjar recruit any participants? Well, Hotjar on-site surveys may be used to recruit user testers from those visitors to your site.
Crazy Egg Features Set
CrazyEgg has a set of features that may interest you in contrast to those that Hotjar may offer to its users. Have a look.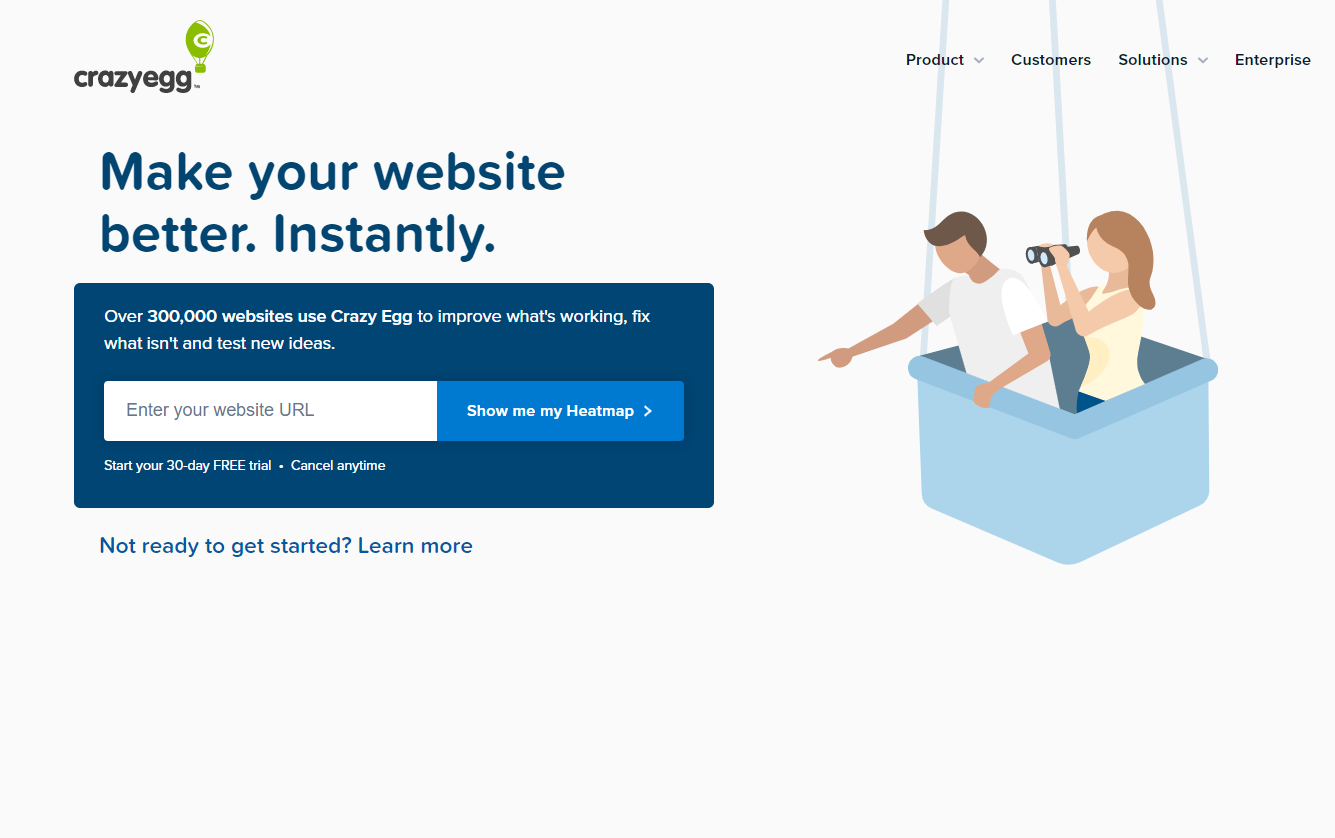 Confetti
Confetti is a unique tool that is designed to display those hotspots as if taking an X-ray of your website pages. If you have the very thick text and some multimedia added to your site, confetti will appear a little stuffed. Сonfetti, however, offers a convenient segmentation of users by traffic channels.
Scrollmaps
For sure, scroll maps will help you to indicate how far down your business website your visitors are getting which will also help you to come up with the best ways to motivate some of them to browse the content of your pages or decide if to place your call to action tags, etc. your CRO is all due to this feature.
Overlays
Overlays unique feature enables you to better grasp on the user clicks numbers well as how many link views a particular page is getting out there.
Comparing CrazyEgg vs Hotjar Pricing
In Hotjar you may start with a free Basic plan. It will allow you to collect data from 35 website sessions per day. In case you need to scale the amount of data, you may always opt for a more advanced prepaid plan. Hotjar site click heat map cost are indicated on their website. The cost for individual use may start from 29 € per 10,000 page views/day. Separately, there is a business calculator (from €89 for 20,000 to €989 for 800,000 views/day, etc). There is also an additional cost for agencies that use this tool for audits of their clients.
Crazyegg vs Hotjar has a similar free option. CrazyEgg click map costs vary as per paid for the number of recorded visits to your site. There are 5 packages: $29 – 30,000 visits, $49 – 75,000, $99 – 150,000, $249 – 500,000, and unlimited. The choice is yours.
Hotjar vs. Crazy Egg Comparison Conclusion
Both services are easy to use and may offer you a variety of best features for your page optimization work and deep insight into your business problems. With Hotjar, you may get many exciting charts, a convenient format for submitting statistics on a site, and so much more.
CrazyEgg integrates with many practical business systems and a complex registration system, all statistics are presented as screenshots and statistics. Site data with an adaptive layout is displayed incorrectly.
While Crazy Egg may be better suited for tracking specific users, Hotjar is the industry leader for heatmaps and behavior analytics. Of course, there are some apparent differences between them when it comes to benefits, approach, and the markets and businesses each of us serves, how they complement Google Analytics and the way their programming tool works for HTML element insert, but in the end, both hotjar crazy egg are worth your attention.