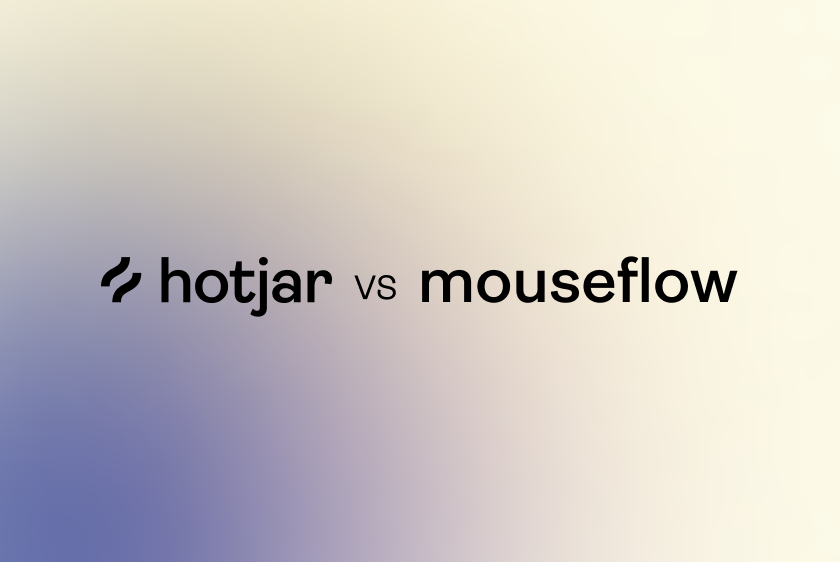 Just like our previous reviews of Google Analytics vs Hotjar and similar services for business, Mouseflow vs Hotjar will provide some insights into the similarities and differences between these tools to help you pick the right one for your work.
What is Hotjar?
Hotjar is a powerful tool with a set of valuable features that help reveal your business users' online behavior and voice. They enable you to combine Analysis and Feedback tools and take a bigger picture of improving your website's user experience and performance/conversion rates.
What is Mouseflow?
Mouseflow is a powerful user behavior analytics tool that helps optimize your website.  Founded by a Danish entrepreneur, it was designed as an ecosystem that works together to empower teams and drive better, more confident decisions. Now it is used by many digital marketing, UX, Product, Startup, and Enterprise clients that need to optimize their website experiences. The main features of the Mouseflow click map include a heat map of clicks (with the segmentation of visitors by language, operating system, screen size, location, etc.), a scroll map, a map of cursor movements, a map of attendance zones, form analytics on pages, video recording of behavior visitors on the site, and setting up sales funnel analytics.
Mouseflow vs. Hotjar Comparison Chart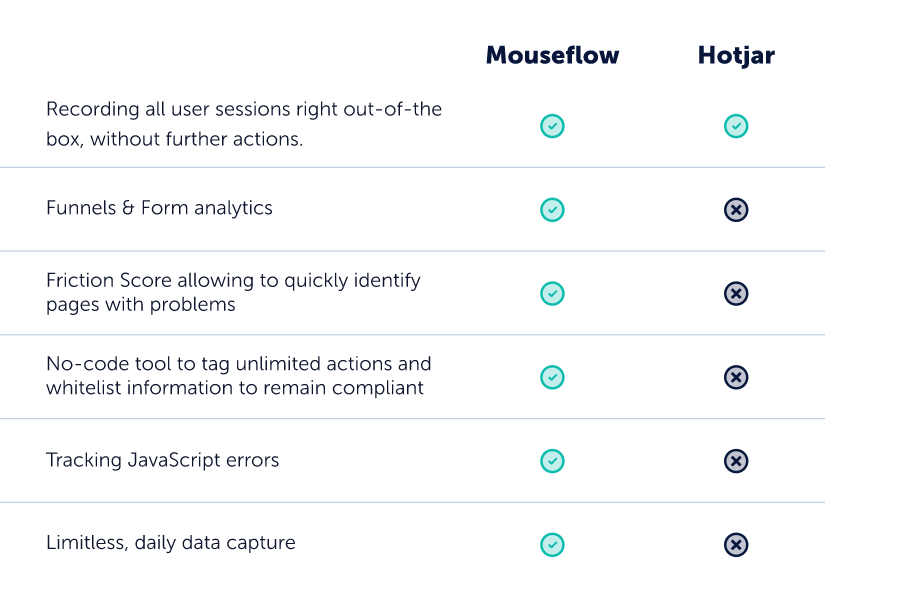 Source: Mouseflow
The features of Hotjar and Mouseflow differ: they both have recording sessions, and replay. However, With Mouseflow you will find many features unavailable with Hotjar. Here's session replay, 6 types of heatmaps, funnels, form analytics, advanced filtering, and others. You can also integrate Mouseflow with platforms like Joomla, Shopify, WordPress, Google Analytics, Hubspot, and more.
Hotjar vs Mouseflow: Detailed Differences
Platforms have wide possibilities and are multi-tool, so, Mouseflow record clicks on dynamic site objects. Also, it allows viewing heatmap reports from mobile devices,  Below there are also more differences to consider.
Integrations
You may integrate both tools. Hotjar has seamless integrations with the following services:
Hubspot
Segment
Omniconvert
Optimizely
Therefore, if you are using any of these programs, then you can integrate all the Feedback or heatmap data from the website into one program. Mouseflow integrates with platforms like Joomla, Shopify, WordPress, Google Analytics, Hubspot, and more.
Session Recording and Replay
Mouseflaw allows using a Friction Score and events to watch the users who had the most trouble on your website. It also supports out-of-box recording. With its session recordings and replay solutions, you always know where to start getting insights and making an impact on your KPIs. Measure every step of the on-site customer journey while you watch actual recordings. Simply input your website funnel URLs and Mouseflow shows conversion rates and more.
If you use HotJar, recordings start collecting data as soon as the Hotjar Tracking Code is installed into your pages and session capture is enabled. Data may be collected across all the pages on your website that have the Tracking Code installed. To replay recorder sessions simply start and stop the Recordings tool.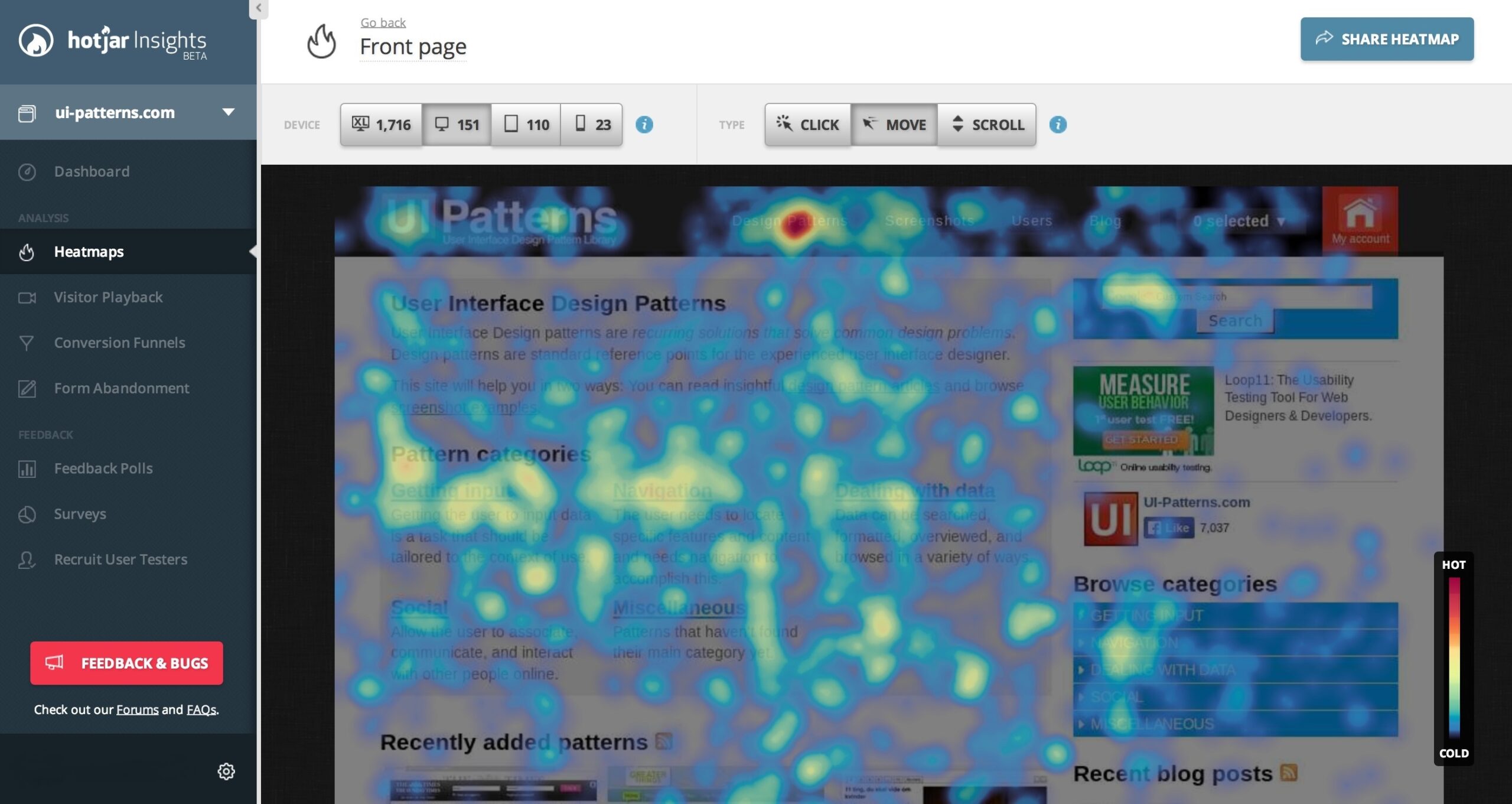 Heatmaps
6 types of heatmaps to uncover hidden patterns and analyze all your pages are available with Mouseflow. With HotJar's heatmap, you can set up a window on your site to communicate with visitors (or, for example, reach out to users who linger uncharacteristically long on a particular page). Alas, HotJar's heat map doesn't count clicks on dynamic objects (although today many sites use interactive elements to attract visitors' attention).
Conversion Funnels
You have the opportunity to work with several tools at once: click and scroll maps, videos of user behavior on the site,  and apply a funnel visualization tool that shows the drop-off rate and conversion rate of your main pages, helping you understand when and where visitors were, etc.  Mouseflow lets you see customers' behavior and fix pain points with recordings, heatmaps, funnels, and form analytics.
Hotjar allows you to quickly build funnels as simple or complex as you'd like. With its help, you build funnels with multiple pages for simple or complex offerings. Also, you may apply Hotjar to test every step in your funnel to understand where users get stuck and what moves them forward.
Form Analytics
It's a Mouseflow web analytics tool that actually offers a form analysis. With Mouseflow's form analytics, you'll have the necessary data to measure the performance of all your web forms.
Pricing
Mouseflow costs: there are 3 packages offered: for 29€/month. ≈10,000 page views, 99€/month ≈ 50,000, 399€/month ≈ 500,000. The free version is available too.
Hotjar has a Personal Basic free plan, but you have a limited number of sessions per day. Personal Plus costs $ 39 per month. The plan Business starts at $ 99 per month and the price increases as your daily sessions grow.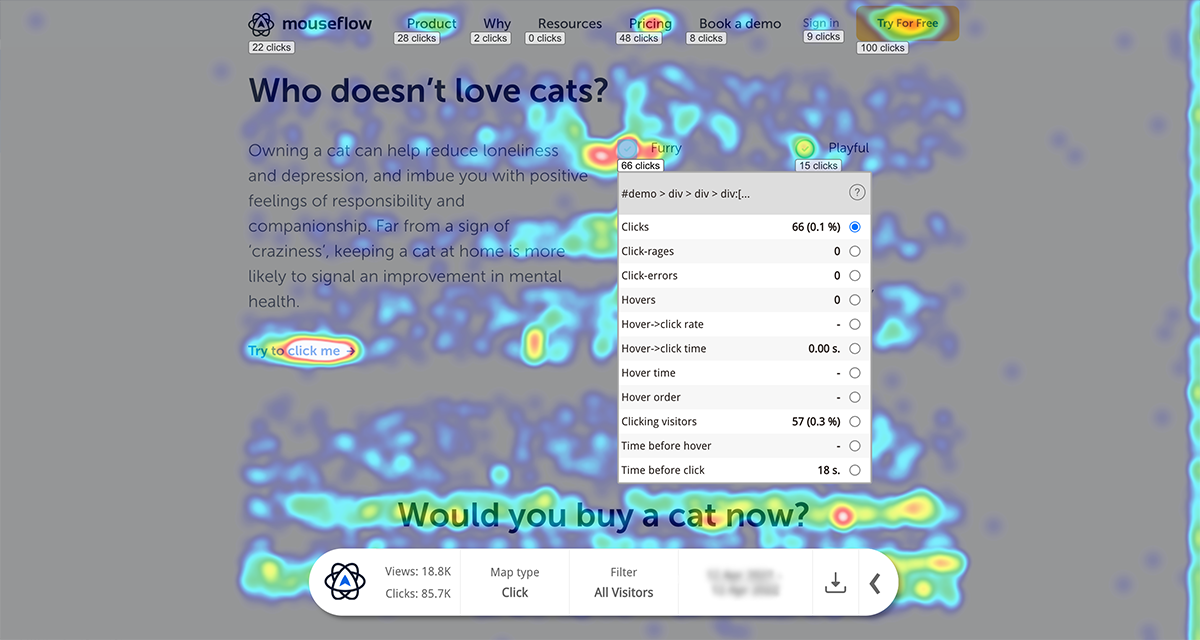 Advantages of the Mouseflow Click Heatmap:
In the Heatmap of Mouseflow clicks, you can also enable chat to communicate with visitors to your web resource. The main focus and the core of the tool are click maps. With click maps, you can figure out what each of the visitors clicked. One of the most significant advantages of this tool is that it has a form analytics feature that allows you to see and understand why site visitors abandon their forms. You can share heat map data with other users.
Disadvantages of Mouseflow Click Heatmap:
There are some minuses of the platform HotJar vs Mouseflow, which is normal because each tool should have pluses and minuses to leave you some space for choosing the ideal variant for your particular case of usage.
Heatmaps from Hotjar have some downsides as admitted by the users:
statistics are not collected in dynamic objects;
no segmentation by traffic channels.
The data retention process will act differently as per each tool's specifics and usage disadvantages. Data storage with Mouseflow is from 3 to 12 months, with HotJar – 365 days from the date of capture.
Conclusion
Both platforms may help with your digital marketing but in different ways. With HotJar, you get a tool to compare taps and clicks before & after tweaks, remove or rethink ignored content, know whether your CTAs are attracting attention, see which type of imagery works best, etc. Mouseflow, in turn, is another behavior analytics tool for digital marketing, UX, product, startups, and enterprise clients that serves to optimize their website experiences on a deeper level. With Mouseflow, you can find out what happens between your visitors' clicks by watching video recordings of their sessions, and seeing what made them nearly not convert or do other activities.  Simply adjust Hotjar Mouseflow platforms to your business and use either accordingly.