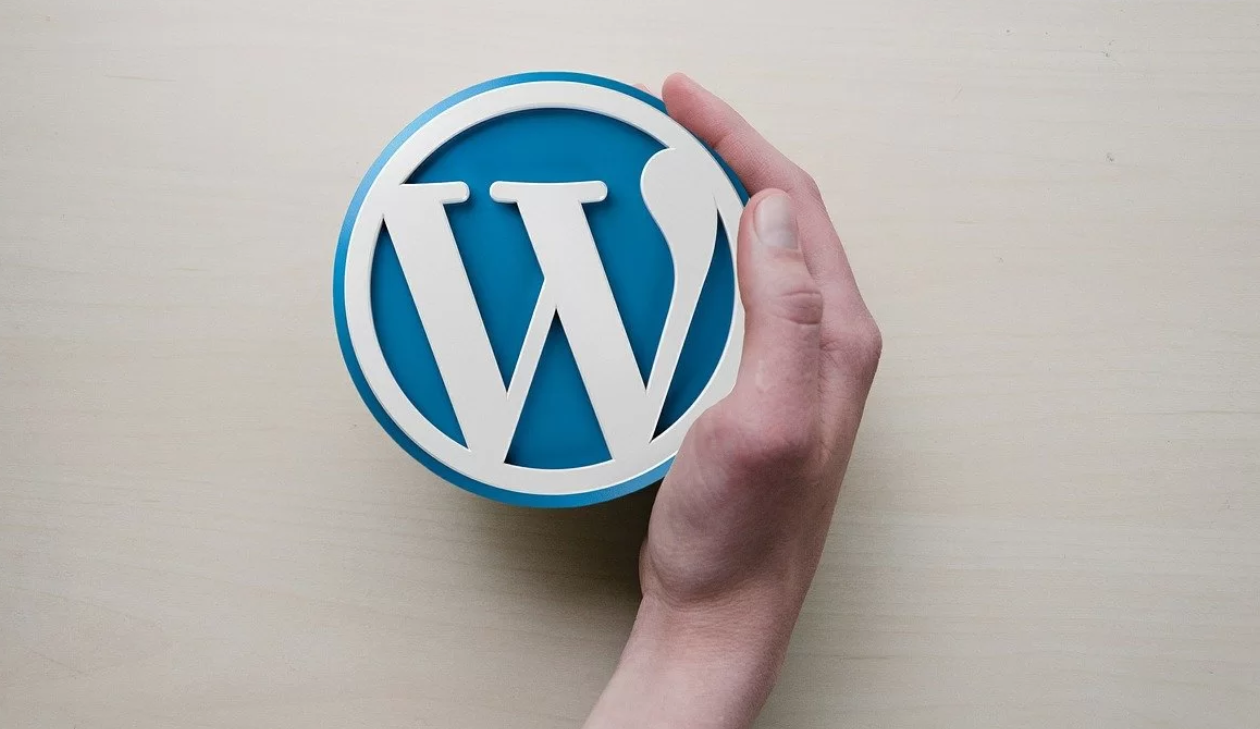 How-to track visits to my WordPress website? – Apply WordPress visitor tracking plugins. To track site statistics right in the admin panel, you may use at least two plugins: Jetpack and Google Analytics Dashboard for WP or platforms with similar services like Creabl or others. Check out more WordPress website visitor tracking methods for your web pages.
Why Is Website Traffic Important
High-quality targeted traffic allows companies to expand their customer base, increase sales to online stores, and increase advertising revenue for information portals. In addition, traffic growth is an effective way to find investors, advertisers or business partners. Web tracking allows you to keep track of what's going on out there and always stay tuned in the changes to improve the quality of products and services.
How to Track Website Traffic
To check out your website traffic and come up with valuable insights and ideas on your business strategy, you may apply numerous tools to check statistics on how much traffic a website gets or other Information. In case WP integration is needed, here are some methods to consider.
Method 1: Use the WPForms Plugin
WPForms is a drag & drop WordPress form builder that is both easy and powerful. You may start using this plug-in once you've downloaded your zip file. You navigate to the website where you'd like to install WPForms and then go to Plugins » Add New and click the Upload Plugin button inside the admin dashboard. From here, you'll be able to see the option to upload the plugin. WPForms will allow you to create subscription forms, beautiful contact forms, payment forms, and other types of forms for your site in minutes without hiring a developer. The plug-in features will enable you to gather data and organize visitor tracking WordPress.
Pros
Pros of Using WPForms plugin will be as follows:
Easy to install.
Easy to use, even for beginners.
Simple interface: you need just to drag & drop to build forms.
For instant use, ready-made template forms.
Video Tutorials and Documentation for help.
Create an unlimited number of forms.
You may also learn about the locations of your leadsvia WPForms and the Geolocation addon, etc. Forms you create here are also incredibly fast and SEO friendly. Besides, there's a WPForms' User Journey addon that help to display the path your visitors take before submitting a form.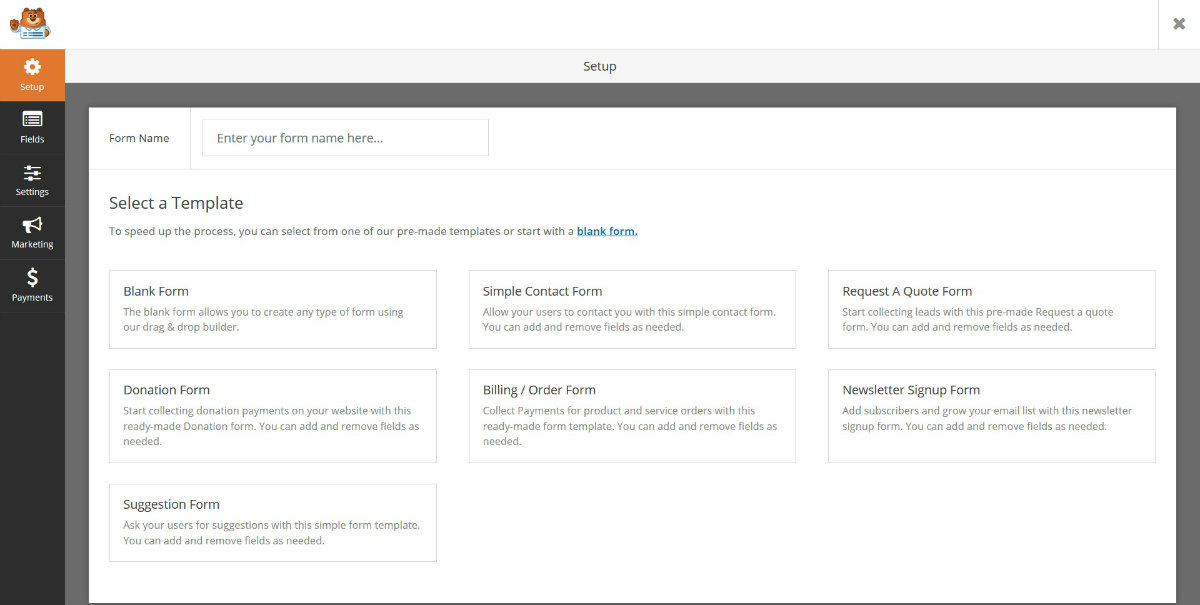 Cons
There are some downsides to this method, as well. Here are some of them you should mind:
In case you are looking for a large-scale solution, it's expensive.
The free version is limited.
You build forms from scratch on your own with no help.
Files cannot be downloaded all at once.
There is no trial offered to try the paid version first.
Nevertheless, WPForms is equipped with various form access features or add-ons that allow the user to control what kind of audience your form should be accessible to and set various criteria for data tracking.
Method 2: Creabl
Creabl platform can be applied to install the website code using WordPress. You take it from the Settings section » Installation. This is a really small code that you need to put into the code on your website pages to set up WordPress user tracking.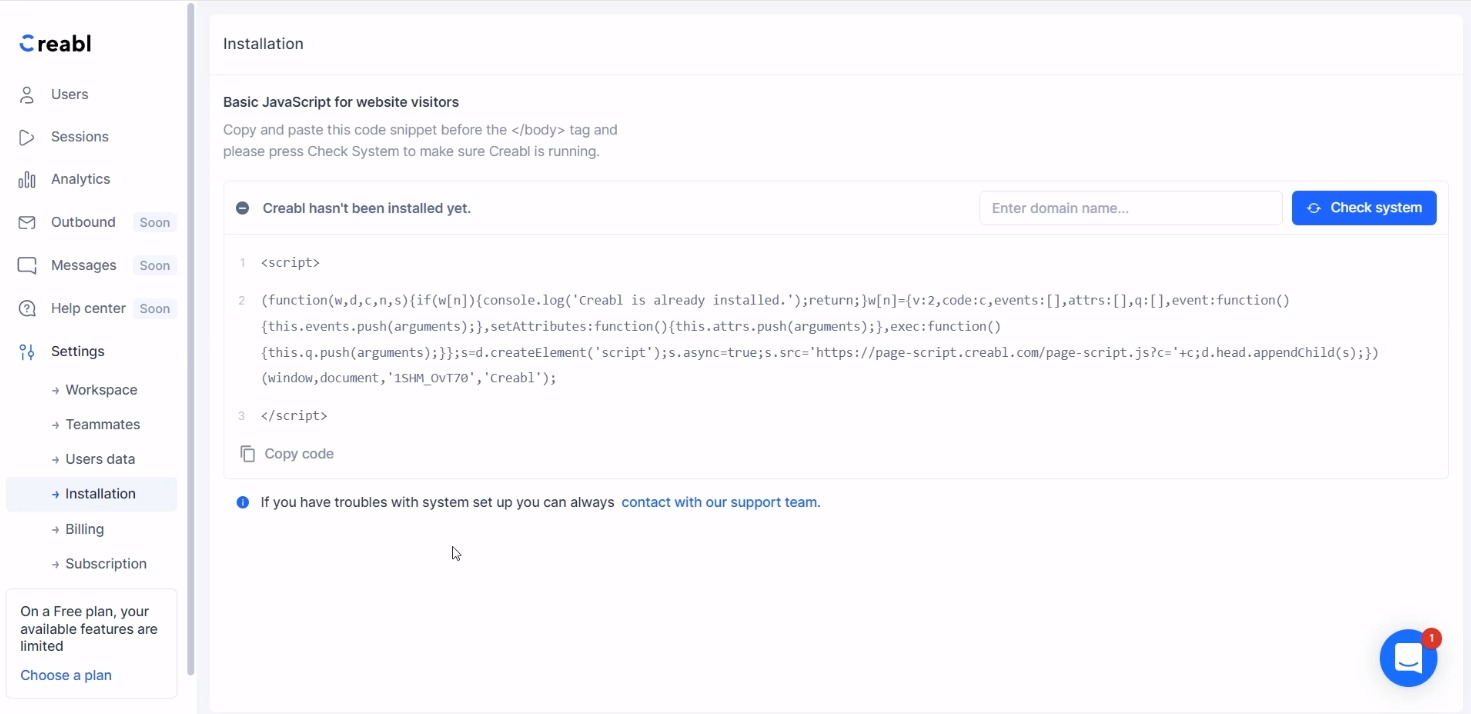 You may use the platform properly to increase your conversion and analyze your users in no time.
Pros
Free, Subscription-based model.
Free Trial: available (No Credit Card required).
Audience Targeting.
Behavior Tracking.
Campaign Segmentation.
Cohort Analysis.
Conversion Rate Optimization.
Conversion Tracking.
Besides, Creabl offers Real-Time user-behavior analytics. It's not just another session recording tool, but a conversion rate optimization tool that helps you understand your users better.
 Cons
The con of using Creabl code may be in the flexibility of options and the data consistency.
Method 3: Google Analytics
Google Analytics is a must of all the best WordPress visitor-tracking plugins. Installing Google Analytics with WordPress is quick and easy on your website. You start collecting the data needed to enhance user experience and increase conversions on your WordPress website or blog in just a minute.
To start tracking the visitors, you go to the Insights section » Reports page, that's from your WordPress admin area. The first report you can see will be the 'Overview' report. You may select the date range and other criteria and then see your website's total number of sessions, pageviews, average session duration, bounce rate, etc.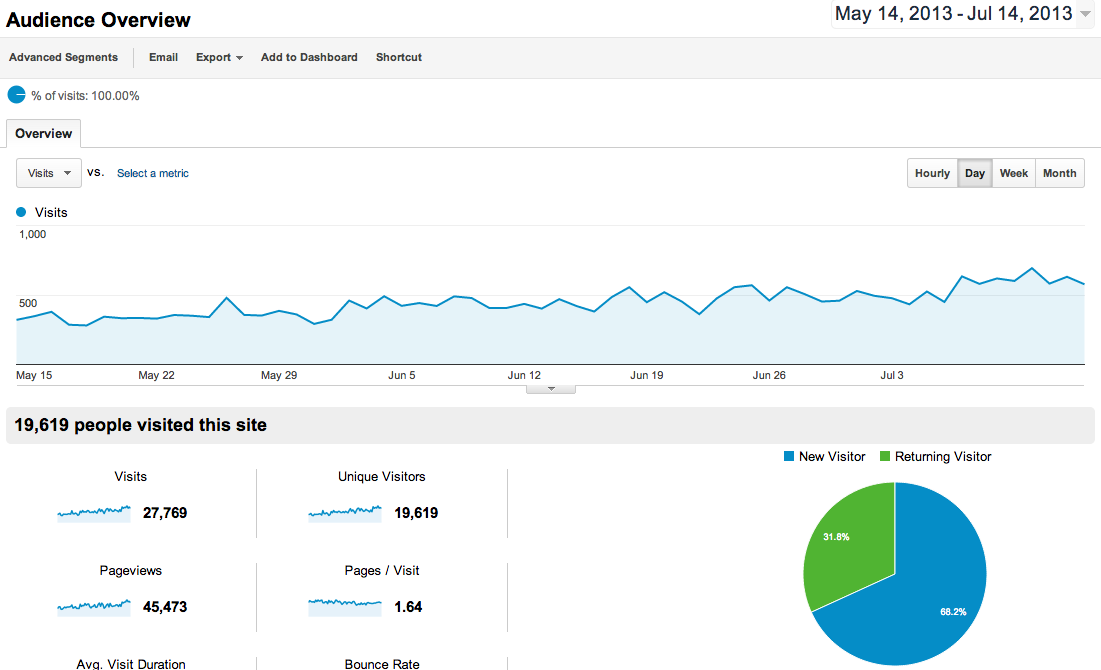 Audience overview
Pros
Using Google Analytics to understand your WordPress site is the first thing to do. With it, you get a complete picture on your website and the visitors out there. It is quick and easy. You may collect the data for the whole to enhance the user experience from A to Z and get valuable insights to increase conversions, etc.
Cons
Based on real user reviews, there's an opinion that the con is that a lot of the Google Analytics plugins are still based on the tracking code outdated versions. They also include a lot of unnecessary stuff that makes it harder to trust the data you get in the end.
Besides, some users admit that GA account plug-ins (like Google Analyticator, for example) are not quite appropriate for corporate accounts because you have to authorize an account for the plug-in to be fully functional and in-so-doing you need to open the possibility of other subaccounts of your company. They may be accidentally linked or possibly hacked if the plug-in isn't regularly updated or even worse.
Method 4: Jetpack plugin
Another website visitor tracking plugin WordPress is Jetpack.The Jetpack plugin will be an all-in-one WordPress sites solution with both free and premium features that can help you boost security, performance, marketing, design, and publishing. It's developed and maintained by Automattic which are the people behind WordPress.com. Most of all you will like site statistics from Jetpack. Apart from Jetpack, you can use other similar tools.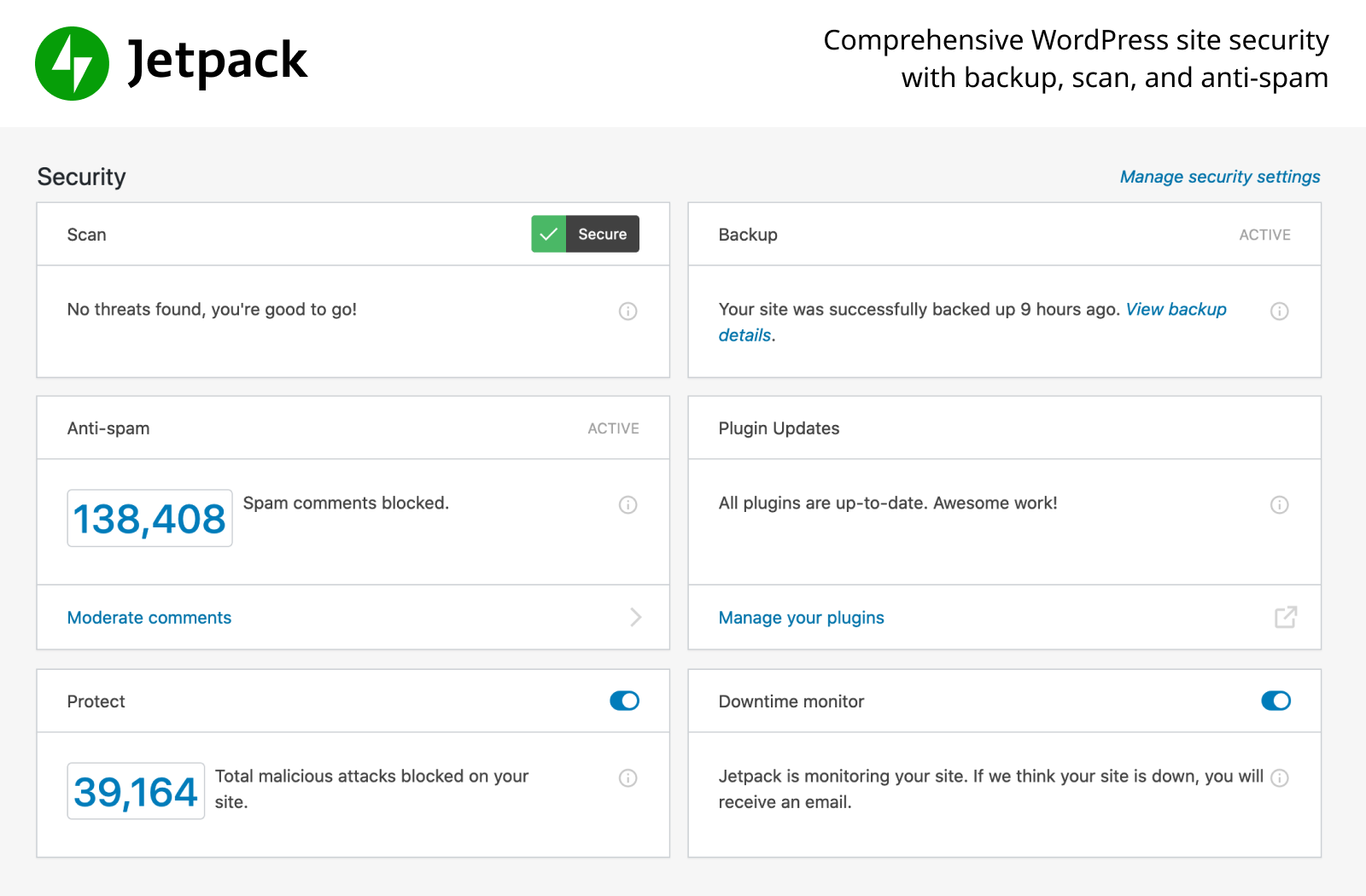 Source: Jatpack
Pros
Jetpack is free (except particular modules) and open source, which is a big pro. Another great thing about it is updated often, and since it's made by the same people who are responsible for WordPress.com, it's reliably compatible with the core.
Cons
Among the downsides of the plug-in you may find the following:
It's bloated, which means it is jam-packed with tons of features, so the interface looks overloaded.
It slows down your website. There's a doubt in performance of Jetpack. If it can cause your site to slow down, but the users admit it does.
Risk Profile. Again, Jetpack requires you to connect your web page to your WordPress.com account, which is dangerous as in the case with GA intergations.
Viewing Website Visitor Reports in WordPress
To review your website visitor reports with WP, you first need to make sure that you've logged in to your WordPress website. Then you need to visit any page or any post from your website or simply click the Insights option in the admin bar. Go to Insights » Reports from your admin panel and click on the Real-Time option at the top. This will open up the stats for the chosen post or page. You may view the number of active users, their geographic locations, how many pages views there is, the time on page people spend, its bounce rate, entrances, and exits and more.
Wrapping Up
There are lots of the most popular plugins for tracking site statistics. You may choose any of them from Google Analytics for WordPress to a more specific WordPress visitor tracking plugin or a tool like Creabl or similar for your web tracking. Web tracking allows you to foresee what's going on with your business and always stay tuned to the changes to improve the quality of products and services. Pay attention to the WordPress user tracking plugin or professional visitor tracking tools to handle the job.